This device converts mechanical energy into electrical energy. It is a reverse of the electric motor. It contains a coil pivoted in a magnetic field. When the coil is rotated in the magnetic field electrical energy is generated.
The D.C generator has a split ring commutator and the e.m.f generated is unidirectional
Simple D.C Generator
The A.C generator has a slip ring commutator and the emf generated is bi-directional
Simple A.C Generator
EVALUATION (POST YOUR ANSWERS USING THE QUESTION BOX BELOW FOR EVALUATION AND DISCUSSION):
State the difference between the ac generator and the dc generator
Explain the principle of an electric motor.
with the aid of diagram explain the principle of operation of a transformer
A galvanometer has a resistance of 5Ω. By using a shunt wire of resistance of 0.05Ω, the galvanometer could be converted to an ammeter capable of capable of reading 2A. What value of current flows through the galvanometer?
The magnetic flux in a coil having 200 turns changes at the time rate of 0.08Wbs-1 Calculate the induced emf in the coil.
Join Discussion Forum and do your assignment
: Find questions at the end of each lesson,
Click here to discuss your answers in the forum
Ad: Get a FREE Bible: Find true peace. Click here to learn how you can get a FREE Bible.
For advert placement/partnership, write [email protected]
Download our free Android Mobile application: Save your data when you use our free app. Click picture to download. No subscription.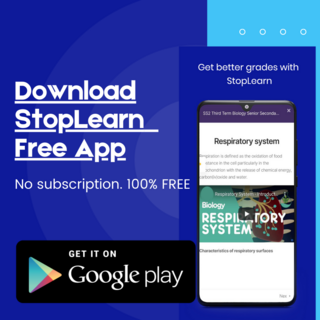 We are interested in promoting FREE learning.
Tell your friends about Stoplearn.com. Click the share button below!