Search For any Lesson/subject to see Note and Video lesson. Get online Lesson notes and Class Videos 100% FREE. Get FREE question banks for secondary school lessons.
Learn by Class or Grade:
Every learning is free. Click to start now!
Click on your class to begin
Search for your preferred subject
Search for your preferred term
Then click on enroll to learn independently at your own pace.
Click to enroll in courses from Class 1-6, that is from Junior Secondary School to Senior Secondary School. Learn with videos, animations and slideshows.
The lessons under each class and subject is in line with the international curriculum for High school or secondary school students.
We already have 50 secondary school or High school subjects but we are adding more. So far, we have 3 indigenous languages already that are not English. We will add other languages. Apart from the most common STEM and Arts subjects, we have also added special subjects like Book keeping, Leadership studies, Security Education, History, Creative and Cultural arts, etc.
Learn by 'Subject':
Here is how to utilize all the resources that we have in this section:
Click on the drop down menu below to select from the 50 subjects available
Search or choose your preferred topic or lesson
Learn for free without any registration.
Do you want to learn a particular lesson by subject? Click the drop-down menu below (Select Category), wait for 2 seconds and start Learning for FREE!
There are over 50 subjects with complete class lesson notes at StopLearn. This section is perfect for all students especially those that wants to read for Ordinary level GCE or WAEC examination.
Free Class Lesson notes for Secondary school Teachers and students
Use this free platform to access free class lesson notes from JSS1 – SS3 all subjects.
Latest FROM OUR BLOG
Free online Secondary school Lesson notes and Classes
How to Use StopLearn.com
StopLearn.com is a free learning platform for High school and Secondary school students. It is designed to make students perform excellently in exams and class works and also as a better alternative to hiring home tutors or subscribing to paid apps. We have also added vocational courses that is out of the O'Level syllabus.
Here is how to use StopLearn:
Click here to use the search box at the top of this section to search for any class lesson note or subject (with videos) in High school curriculum. We are the Google for secondary school students.
You can enroll in a virtual classroom by clicking on your class from Class 1-6. In this way, StOP!Learn serves as a virtual High school. All classes are free.
Use our Discussion Forum to socialize with other learners and also submit class assignments for discussion.
You do not need to hire a home tutor or subscribe to any paid app or website. No credit card required. At Stoplearn.com, we believe that education and learning should be free and not for the privileged. We have gathered the best teachers from all around the world to ensure you perform better at school and in your exams.
Free online secondary school High school primarily for Nigeria and West African countries.. Free online lesson notes and videos. Best for for the following exam preparations: WAEC, JAMB, Cambridge O'Level, NECO, GCE, British IGSCE, KCSCE, United States and Canada High School Exam preparations, etc.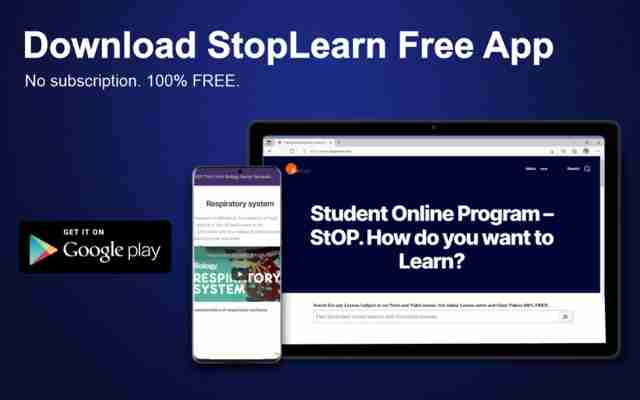 Why Choose StopLearn.com?
Tutors from the best Universities in the world: We have carefully screened and selected tutors from the best universities in the world and experts in their field. We have videos from tutors in United States, Nigeria, India, United Kingdom, Ghana, etc. to give you a learning that should otherwise be expensive to get all for free. We have done this inline with YouTube policy for embedding videos, which is a win to content creators as all advert revenue go to them.
Interactive Learning: More than what you can get from Classroom experience or other paid apps. We have rich media which includes animations and slideshows for more effective learning.
Freedom and Flexibility in learning when you learn at your own pace with us.
Our Safe Advertisement policy:
We show Adverts on Stoplearn.com. Our Adverts are safe for underage children and adults.
We automatically block any advert that references Drugs, dating, Alcohol, Gambling and Betting, etc. on our platform. We care, StOPLearn is safe for everyone.
Our On demand Learning Approach
StopLearn.com provides free online secondary school or High school for all students. Free online secondary school is a virtual platform where students can learn in an online class that is stimulated to look like real life classroom and yet very unique. Also find free lesson notes for secondary school teachers and students.
We offer a Digital Learning platform for every student to learn high school lessons for free. This helps the student complete lessons and class works with more autonomy.
Online classroom is a preferred alternative to learning because it lets the students learn at their own pace and take full control of their learning environment which is virtual. The website and app is compatible with both PC and mobile phone. Our mobile app is also free for download at Playstore.
We understand that freedom and flexibility means a lot to students so we provide free access to all our lessons using education on demand approach for high school students and every one. The students who perform excellently well at school are also usually those that can also learn independently. We have developed many online tools to help every learn at their own pace. Most importantly, every of our resources is free for all.
Free Classroom Lesson Notes for Secondary school Teachers and Students
We have go reviews on our app from Teachers that find our platform useful too. All our lesson notes are free to use for learning purposes only. Please do not commercialize or sell our materials. Also give us the credit wherever necessary. Happy learning with StopLearn!
Grade 10 Agriculture Grade 10 Biology Grade 10 Chemistry Grade 10 Civic Education Grade 10 Commerce Grade 10 Data processing Grade 10 Economics Grade 10 English Language Grade 10 Financial Accounting Grade 10 Food and Nutrition Grade 10 French Language Grade 10 Further Mathematics Grade 10 Geography Grade 10 Government Grade 10 Marketing Grade 10 Mathematics Grade 10 Physics Grade 10 Yoruba Language Grade 11 Literature in English Grade 11 Physics Grade 11 Yoruba Language JHS 1 1st Term English Language JSS JHS 1 2nd Term English Language JHS 1 ONLINE STUDY JHS 2 1st Term Cultural and Creative Arts JHS 2 1st Term English Language JHS 2 1st Term French Language JHS 2 ONLINE STUDY JSS1 1st Term English Language JSS JSS1 2nd Term English Language JSS1 ONLINE STUDY JSS 2 1st Term Cultural and Creative Arts JSS 2 1st Term English Language JSS 2 1st Term French Language JSS2 ONLINE STUDY JSS 2 ONLINE STUDY JSS3 ONLINE STUDY SHS 2 2nd Term Yoruba Language SHS 2 ONLINE STUDY SHS 3 ONLINE STUDY SS1 1st Term Mathematics SS1 ONLINE STUDY SS2 2nd Term Yoruba Language SS2 ONLINE STUDY SS3 ONLINE STUDY