In coordinate geometry, we make use of points in a plane. A point consists of the x-coordinate called abscissa and the y-coordinate known as ordinate. In locating a point on the x – y plane x – coordinate is first written and then the y-coordinate. For example, in a given point (a, b), the value of x is a and that of y is b. Similarly, in a point (3, 5), the value of x is 3 and that of y is 5. A linear graph gives a straight line graph from any given straight line equation which is in the general form y = mx + c or ax + by + c = 0
Example: Draw the graph of equation 4x + 2y = 5
Point of intersection of two linear equations
Two lines y = ax +b and y2 = cx + d
Intercept when ax + b = cx + d
That is you solve the two equations simultaneously
Intersection of a line with the x or y axis
The point of intersection of a line with the x –axis can be obtained by putting y = o to find the corresponding value of x = a, say the required point of intersection gives (a, o). Similarly, for the point of intersection of a line with the y-axis, put x = o to find the corresponding value of y. If the corresponding value of y is b, the required point of intersection is (o, b)
Example: Find the point of intersection of the line 2x + 3y + 2 = 0 with the
x – axis (ii) y – axis
Example 3: Find the point of intersection of the lines y = 3x + 2 and y = 2x + 5
Solution
y = 3x + 2 (1)
y = 2x + 5 (2)
At the point of intersection
3x + 2 = 2x + 5
3x – 2x = 5 -2
X = 3
Substitute 3 for x in equation (1), we obtain y = 3(3) + 2 = 11.
Hence, the point of intersection is (3, 11)
GRADIENT OF A STRAIGHT LINE
The Gradient of a straight line is defined as the ratio
Change in y in moving from one
Change in x point to another on the line. The Gradient of a straight line is always constant.
TANGENT OF A SLOPE
Join Discussion Forum and do your assignment
: Find questions at the end of each lesson,
Click here to discuss your answers in the forum
Ad: Get a FREE Bible: Find true peace. Click here to learn how you can get a FREE Bible.
For advert placement/partnership, write ask@stoplearn.com
Download our free Android Mobile application: Save your data when you use our free app. Click picture to download. No subscription.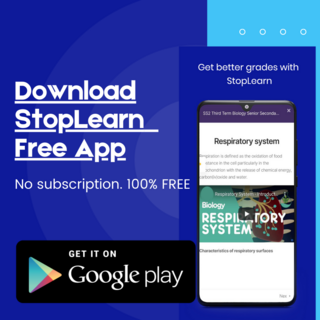 We are interested in promoting FREE learning.
Tell your friends about Stoplearn.com. Click the share button below!