Solve the following equation
a) Log10 (x2 – 4x + 7) = 2
b) Log8 (r2 – 8r + 18) = 1/3
Solution
a) Log10 (x2 – 4x + 7) = 2
X2 – 4x + 7 = 102 (index form)
X2 – 4x + 7 = 100
X2 – 4x + 7 – 100 = 0
X2 – 4x – 93 = 0
Using quadratic formular
= – b ±√b2– 4ac
2a
a = 1, b = -4, c = – 93
x = – (- 4) ± √(- 4) 2 – 4 X 1 X (- 93)
2 X 1
= + 4 ± √16 + 372
2
= + 4 ± √388/2
= x = 4 +√ 388/2 or 4 – √388/2
x = 11.84 or x = – 7.85
2) Log8 (x2 – 8x + 18) =81/3
X2 – 8x + 18 = 81/3
X2 – 8x + 18 = (2)3X1/3
X2 – 8x + 18 =2
X2 – 8x 18 – 2 = 0
X2 – 8x + 16 = 0
X2 – 4x – 4x + 16 = 0
X(x – 4) -4 (x – 4) = 0
(x – 4) (x – 4) = 0
(x – 4) twice
X = + 4 twice
Change of Base
Let logbP = x and this means P = bx
LogcP = logcbx = x logcb
If x logcb = logcP
X = logcP
Logc b
:. LogcP = logcP
Logcb
Example : Shows that logab X logba = 1
Logab = logcb
Logca
Logba = logca
Logcb
:. Logab X logba = logcb X logca
Logca + logcb= 1
EVALUATION ( USE THE DISCUSSION BOX AT THE BOTTOM TO SUBMIT YOUR ANSWER FOR DISCUSSION AND APPRAISAL)
Solve the following logarithm equation.
Log3 (x2 + 7x + 21) = 2
Log10 (x2 – 3x + 12) = 1
Join Discussion Forum and do your assignment
: Find questions at the end of each lesson,
Click here to discuss your answers in the forum
Ad: Get a FREE Bible: Find true peace. Click here to learn how you can get a FREE Bible.
For advert placement/partnership, write ask@stoplearn.com
Download our free Android Mobile application: Save your data when you use our free app. Click picture to download. No subscription.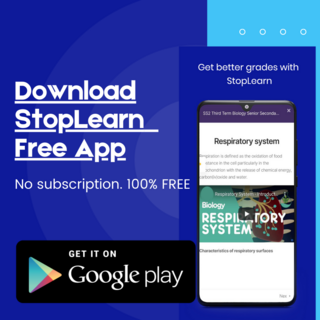 We are interested in promoting FREE learning.
Tell your friends about Stoplearn.com. Click the share button below!