The law or theory or principle of comparative cost advantage propounded by David Ricardo in 19th Century, states that a country will be better off, if it specializes in the production of commodities in which it has the greatest comparative cost advantage over others and exchange them for commodities in which it has comparative cost disadvantage. This law is based on the premises of the law of opportunity cost.
A country is said to have comparative advantage over others in the production of a commodity in which it has the lowest opportunity cost than others. The real cost of production in terms of the alternative goods forgone is used in comparison with that of other nations.
The principle operates on some basic assumptions that:
There are only two trading countries
Only two items are produced
There is free flow and mobility of factors of production
There is no balance of trade between the two countries
There is no transport cost
Technology and costs are constant
Labour is the only factor of production
Based on these assumptions, the principle can be illustrated in three stages as follows:
Country
Units of
Labour
Output
(in bags)
Opportunity Cost
Rice
Cocoa
Nigeria
10
10
150
15 bags of cocoa or 1 bag of rice
Thailand
10
100
20
5 bags of rice or 1 bag of cocoa
Total Output
110
170
Nigeria will forgo 15 bags of Cocoa to produce 1 bag of rice or forgo 1 bag of rice to produce 15 bags of Cocoa.
Thailand will forgo 5 bags of rice to produce 1 bag of cocoa or forgo 1 bag of cocoa to produce 5 bags of rice.
From the above, we can deduce that Nigeria has a comparative advantage in the production of cocoa while Thailand has comparative advantage to produce rice.
Stage II. With Specialization
Country
Units of
Labour
Output
(in bags)
Rice
Cocoa
Nigeria
10
–
300
Thailand
10
200
–
Total Output
200
300
Stage III. With Trade
Country
Quantity of
Consumption
Rice (in bags)
Cocoa (in bags)
Nigeria
90
210
Thailand
110
90
Total Consumption
200
300
From the tables,
The total production of the countries increased with specialization i.e Rice from the initial 110 bags to 200 bags and Cocoa from 170 bags to 300 bags.
The trading countries now enjoy improved or higher standard of living because they have more commodities than they could produce before trade.
The trade enhanced more efficient allocation of productive resources i.e. labour.
EVALUATION (POST THE QUESTION TITLE AND YOUR ANSWERS IN THE BOX BELOW FOR DISCUSSION AND EVALUATION)
Explain the concept of comparative cost advantage in International trade.
What are its contributions to trade among nations?
Join Discussion Forum and do your assignment
: Find questions at the end of each lesson,
Click here to discuss your answers in the forum
Ad: Get a FREE Bible: Find true peace. Click here to learn how you can get a FREE Bible.
For advert placement/partnership, write [email protected]
Download our free Android Mobile application: Save your data when you use our free app. Click picture to download. No subscription.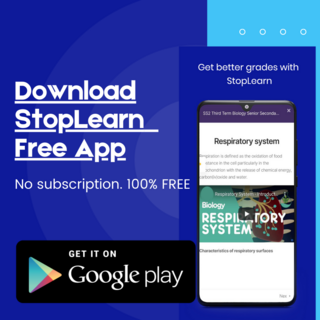 We are interested in promoting FREE learning.
Tell your friends about Stoplearn.com. Click the share button below!