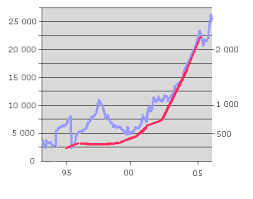 The stock exchange market is a specialized financial market where existing securities are traded .It is a market for buying and selling of shares and other financial securities .The market is highly organized and self-regulating. The securities are shares, debenture, gilt edges, and development etc.
COMPANIES QUOTED ON THE STOCK EXCHANGE MARKET
1 Nestle Plc
2.Afprint Nigeria Plc
3 Julius Berger Nig .Plc
Eko crop Plc
5 .Unilever Nig Plc
6 .Skye Bank Plc
7 .Access Bank Plc.
8 .AIICO insurance Plc.
FUNCTIONS OF THE STOCK EXCHANGE MARKET
The stock exchange performs the following functions
FACILITATES THE PURCHASES AND SALES OF SECURITIES
2 .PROVISION OF CORPORATE INFORMATION
3 .VALUATION OF PRICE OF SECURITIES
4 .PROVIDES INFORMATION ABOUT DAILY TRANSACTIONS
5 .PROVISION OF RULES AND REGULATIONS
6 .PROVIDES PROFESSIONAL ADVICE
7 .ENSURING THE LIQUIDITY OF SECURITIES
8 .HELP THE GOVERNMENT TO RAISE FUND
9 .TRANSFER OF SECURITIES
10 .ENABLES COMPANY TO RAISE FUND
11 .INCREASE IN THE VOLUME OF SECURITY
12 .PROVIDES MARKET FOR INVESTMENT
ORGANIZATIONAL SET UP
The stock exchange market is a highly organized market. Only licensed members are admitted and business is transacted according to prescribed set of rules. The council of the Nigerian Stock Exchange governs it and the administration is in the hand of the Director General
(A) .STOCK BROKERS: These are members of the stock market .Stockbrokers are key operators who buy and sell securities on behalf of investors for a commission called BROKERAGE .They professionals licensed by the security and exchange commission
FUNCTIONS OF STOCKBROKERS
Execute purchases and sales of securities on behalf of clients
Brokers provide advisory services
They participate in the pricing of securities in the primary and secondary markets
Brokers can also sponsor issues at the Stock Exchange market.
They facilitate liquidity of security
(B)JOBBERS: These are recognized members of the Stock Exchange market who buy and sell securities on their own behalf .He is a wholesale dealer in securities. Jobbers transact business only with the brokers who act on behalf of investors .They specialize in a particular group of securities. Jobber buys and sells at a profit called jobber's turn.
FUNCTIONS OF JOBBERS
I they deal in a particular type of securities
Ii Jobbers give advice to the brokers
Iii they buy and sell securities on their own for a profit called jobber's turn
Iv Jobbers ensure ease of transaction for the brokers.
(C) ISSUING HOUSES: These are institutions which play pivotal roles in the packaging of issues for companies that want to source additional capital from the market .They are ordinary members of the Stock exchange market.
FUNCTIONS OF ISSUING HOUSE
1 .It arranges the issue of securities.
2 .Pricing of new issues
3 .Giving financial advisory services to investors.
It performs specialist activities .E.g. mergers.
5 .Issuing house brings new issue to the market.
6 .It determines the timing of issues.
(D) REGISTRARS: These are firms that are responsible for the administration of the company's shares and keeping of register of members. They are also key operators in the stock market. Registrars are experts responsible for the successful completion of shares acquisition registration process.
FUNCTIONS OF REGISTRARS
1 .Acts as transfer agents of shares transactions
Dispatch of surplus monies to subscribers.
3 .keeping detailed registers of the shareholders
4 .They assist in the distribution of certificate to the investors.
EXAMPLES
1 .WEMA registrars
2 .Zenith registrars
3 .UBA securities
4 .Union registrars
(E)RECEIVING BANKS: These are banks designated by an issuer to receive proceeds of an issue on its behalf .Receiving banks can be merchants or commercial banks.
(F) AUTHORIZED CLERK: This is an employee of a stockbroker who is entitled to enter a Stock Exchange market and act on behalf of his employer.
(G) UNAUTHORIZED CLERK: This is an employee of a stockbroker who is a member of the Stock Exchange market and who although is permitted to assist his employer but he is not allowed to deal.
PROCEDURES OF TRANSACTIONS IN THE STOCK EXCHANGE MARKET
The dealing members of the market carry on transactions at the Stock Exchange market. Ordinary members are not permitted to transact business .The following steps should be followed
STEP1: An investor visits the stock broker and make his intention to purchase or buy shares known to the broker.
STEP2: He will deposit an amount of money in cash or cheque and ensure that it is backed by receipt.
STEP3: A transfer form is given to him to append his signature .The stock broker will go and bid for the required shares on the floor of the Stock Exchange Market.
STEP4: The stockbroker will make his intention to purchase a certain quantity of shares known to other brokers at the trading session of the exchange.
STEP5: The stockbroker will prepare a contract note which will be given to the investor. After the contract note has been sent for noting by the exchange and transfer form lodged with the registrar. The certificate or statement of shareholding will be made available to the investor.
CONTRACT NOTE This is a document sent by the stockbroker to his client stating the terms on which he has bought or sold stocks or shares on his behalf.
. CONTENTS OF CONTRACT NOTE
Name of the investor
Quantity of shares
Brokers commission 0r brokerage
Amount of value added tax paid.
5 Amount of stamp duty paid
CONTRACT SPECIMEN
MOLTEN TRUST LIMITED
MEMBER OF NIGERIAN STOCK EXCHANGE MARKET
PURCHASE CONTRACT NOTE
DATE: 20/07/2007
CSCS ACCOUNT NAME: FIKAYO ADEBISI
ADDRESS: #100, FLAT 8,ABESAN HOUSING ESTATE
LAGOS
TRANSACTION NUMBER: PCN 4095
STOCK CODE: WEMA BANK
PURCASE QUANTITY: 4000
UNIT PRICE IN NAIRA: 10.98
CONTRACT: 43920
SEC FEE: 263.52
CONTRACT STAMP: 32.94
BROKERS INCOME: 658.80
VAT ON INCOME: 32.94
CSCS FEE$VAT 46.12
—————-
44954.33
——————–
________________ ________________
AUTHORIZED BY AUTHORIZED BY
SPECULATION: This is the activity of buying and selling shares in a company in the hope of making a profit, but with the risk of loosing money. The speculators take risks in the hope of making profits by buying particular shares when the price is low with the anticipation of selling when the price is high. They are bulls, bears and stag.
a.BULLS: These are speculators on the Stock Exchange Market who buys securities
Now in expectation of a rise in their price in future. Bulls purchase shares with the intention of reselling them at a higher price for a gain.
BULLISH MARKET: A market is bullish when buyers predominate over sellers' .In a bullish market the dealers are expecting price to rise.
FEATURES OF BULLS;
He is a speculator on the Stock Exchange Market
A bull does not buy with the intention of keeping them.
Bulls anticipate an increase in prices
He purchases at low price and sells at higher price for gain
b.BEAR: These are speculators on the Stock Exchange Market who sells shares now in anticipation of a fall in their prices in future.
BEARISH MARKET: The dealers in this market are expecting a fall in price
FEATURES:
They are pessimistic speculators.
Bear anticipates fall in prices
amount of a new issue of shares if he thinks the price is likely to rise above the offer price when effective dealing in it begin on the Stock Exchange Market.
FEATURES:
Stags subscribes for new issue of shares.
He expects price to rise and make profit.
He has no intention of taking the shares up personally.
TYPES OF SECURITIES:
MEANING OF SECURITY: These are financial instruments which are traded on the Stock Exchange Market. Financial securities are shares, debentures, bonds ,gilt edged and stocks etc.
SHARES: Shares can be defined as the unit of capital of a company allocated to individuals. It is the interest of the shareholders in a company measured by a sum of money .They are issued by quoted companies and are traded on the Stock Exchange Market.
Debentures: These are loans of long –term nature. Debenture represents the document which acknowledges the indebtedness of a company. They are secured on the assets of a company. It has a fixed rate of interest.
3.STOCK:It may be defined as a collection of shares into a bundle or consolidated shares .Stocks are usually quoted per #100 nominal value ,but fractions may be bought or sold.
4.BONDS:These are securities issued by the government as a way of raising fund from the stock exchange .Bonds are fixed interest investment securities issued for long –term duration and they have coupon rate.
FEATURES OF BOND
It has a fixed rate of interest.
Bond has coupon rate.
It is a long term debt.
5:GILT-EDGED:These are long- term securities issued by the government, which carry a minimum risk .Gilt-edged securities are interest –bearing securities that are considered relatively risk free.
SECOND TIER SECURITY MARKET
The Second Tier Security market is established for the buying and selling of shares of small –scale companies .It is set up to alleviate some of the problems of the 1st Tier thereby enhancing mobilization and allocation of resources in an economy. The main reason of this market is to encourage small scale business. Examples of companies are Adswitch and Capital oil
REQUIREMENT FOR ADMISSION INTO SSM
Public limited company: The Company must have been registered as public limited company.
Minimum of 10% equity capital: A minimum of 10% of its equity capital must be available to the public.
3 Number of shareholders must not be less than 100
Preparation of three years accounts
Fixed flat annual quotation fees
Limited capital: the amount of capital to be raised is limited to #20m
ADVANTAGES TO COMPANIES
Avenue for raising capital
Facilitates purchases and sales of shares
Cost savings
4, means of useful publicity
5 .No loss of control
Providing room for employee's patronage
Possibility of full listing
Acceptance of shares as consideration in merger.
Provision of financial advice
Encouragement of small and medium scale business
ADVANTAGES TO THE INVESTORS
Marketability of shares.
Assessing profitability of companies.
Long-term investment: It provides opportunity for investors to have investment in companies listed on the SSM.
Protection of investors: All companies listed on the market are required to submit their financial statements to the exchange for scrutiny .The Security and Exchange commission monitors all their activities and are expected to follow the laid rules and regulation.
Investors can take up 10% equity capital: The investors can enjoy 10% equity capital, which would be made available to the investing public.
LISTING ON THE STOCK EXCHANGE MARKET
Listing is the admission of a company, s capital or instrument on the trading floor of the Stock Exchange Market .Before the admission, the company must have complied with the listing requirements as embodied in the stock exchange green book .A company can be listed on the First Tier Security Market or Second Tier Security Market.
IMPORTANCE OF Stock Exchange Market
Provision of job opportunities
Transfer of securities.
Promotion of economic growth and development.
Attraction of foreign capital.
Enables company to raise funds
Efficient allocation of resources.
A source of public finance.
Creation of wealth.
Measurement of company's performance.
TERMINOLOGIES
DIVIDEND WARRANT: This is a draft issued by a company and made payable to a shareholder for the amount of dividend owed to him for stated period.
SHARE CERTIFICATE: This is a document issued under the official seal of a company showing ownership of shares in that company.
RIGHT ISSUE: This is a means of raising new equity capital whereby the existing shareholders are invited to subscribe for the new issue in proportion to their existing shareholdings.
BONUS ISSUE: This is the capitalization of the reserve of a company by the issue of additional shares to existing shareholders in proportion to their holding.E.g one shares for three shares.
5 .BID PRICE: This is the price at which an investors acting through a broker is prepared to buy securities at the market.
6 .UNDERWRITING: The merchant bank making the issue arranges with financial institutions to underwrite a new share issue .If the shares are not fully subscribed, these institutions take up the surplus shares .if they are fully subscribed, the underwriters collect commission.
BACKWARDATION: This is a payment made by a speculator on the stock exchange to the customer when the speculator is unable to deliver stock on the required date
HEDGING: This is a method of buying security and selling another in order to reduce risk. A perfect hedge produces a risk less portfolio.
CONTANGO: This means carry over. A broker who wishes to postpone `settlement of a transaction to the following account may do so on payment of interest on the sum due.
ARBITRAGE: It simply refers to the switching process from one security to another in order to take advantage of either the prices or returns differential or both
EX –DIV: (EXCLUDING DIVIDEND) this means that the price quoted on the stock exchange does not entitle the purchaser for the next dividend, which is due for payment.
12CHURNING: This is used to describe a situation where the stockbroker persuades his client to sell shares unnecessarily in order to buy another share so that he can earn more commission.
11, BROKERAGE: This is the commission charged by brokers for the transactions carried out on behalf of an investor.
CUM-DIV (CUMMULATIVE DIVIDEND):The purchaser of a stock quoted dividend "Cum-div" will be entitled to receive the next dividend when due .It means "with dividend"
ACCUONT DAY: This is the day on which settlement has to be made for for transactions made during the previous account .It is also referred to as settlement day.
14 QUOTED SHARES: The shares of a company listed on the stock exchange for sale are referred to as quoted shares.
EVALUATION:
State and explain five importance of stock exchange market to companies and investing public.
ASSIGNMENT: State five factors that affect the price of securities.
State five advantages of second –tier foreign Exchange market (SFEM).
Click here to ask a question and get an answer published in the forum. Read our disclaimer.
Get paid for every topic you create in: Shoutam.com Forum!