Changing Chart Type
Adding and Editing Charts
Formatting a Chart
Changing Chart Type
After creating a chart, you can change it to the type you want. The type you choose depends on how you want to present your data.
Select the chart
Within the chart, click the right mouse button OR
Click on insert on menu bar
Click on change Chart type
Under Chart Type, list click to select the desired chart type (e.g, Column, Bar, Line, etc). Under Chart sub-type list, click to select the chart sub-typed desired. You can view the chart sample by pressing it and hold to view sample button.
Click on OK when satisfied.
Formatting graphs – Changing chart type
Changing from histogram to pie chart using the same data
Formatting graphs – Changing chart type – Changing from histogram to pie chart using the same data
Adding and Editing Charts
Once you have created a chart, you can add more chart data series or copy additional chart data series from a worksheet or another chart. Microsoft Excel offers a variety of ways to edit your chart data
You can change a chart data series by:
Adding a chart data series to a chart
Adding or removing more data point to the existing chart data series.
Plotting the data by rows or by columns.
To add or edit a chart data series with chart wizard tool
Select the chart you want to edit
Click the chart wizard tool
Follow the instruction on the screen
The chart is automatically updated to reflect the new data.
Formatting graphs – Adding and editing charts
Adding more data to the present data gives us
Formatting graphs – Adding and editing charts
Formatting a Chart
You can change the font of chart text, change the horizontal and vertical alignment and rotate text to a vertical orientation. You can also change the pattern and the colour of the text area. The text is displayed in the front of the area pattern so that it is always visible. Microsoft Excel automatically formats the charts title and axes title as bold.
To format chart text with the standard tool bar
To format all the text in a chart, select the chart by choosing select chart from the chart menu. To format a single piece of attached or unattached text, click the text to select it. To format tick-mark labels for an axis, click the axis to select it.
To format text that appears in a legend, click the legend; click the legend to select it.
Click one of the formatting or alignment tools to format the text
Join Discussion Forum and do your assignment
: Find questions at the end of each lesson,
Click here to discuss your answers in the forum
For advert placement/partnership, write ask@stoplearn.com
Download our free Android Mobile application: Save your data when you use our free app. Click picture to download. No subscription.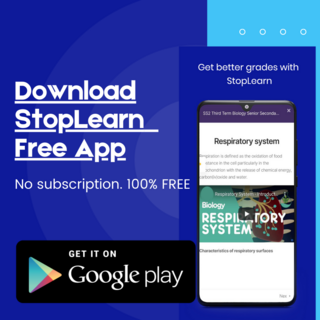 We are interested in promoting FREE learning.
Tell your friends about Stoplearn.com. Click the share button below!