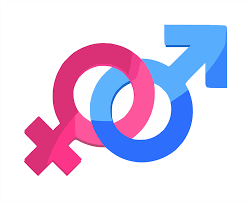 The state of being male or female (typically used with reference to social and cultural differences rather than biological ones).
Gender is the range of characteristics pertaining to, and differentiating between, masculinity and femininity. Depending on the context, these characteristics may include biological sex (i.e. the state of being male, female or an intersex variation which may complicate sex assignment), sex-based social structures (including gender roles and other social roles), or gender identity. Some cultures have specific gender roles that can be considered distinct from male and female, such as the hijra (chhaka) of India and Pakistan.
According to World Health Organization (WHO), gender refers to the socially constructed characteristics of women and men – such as norms, roles and relationships of and between groups of women and men. It varies from society to society and can be changed. While most people are born either male or female, they are taught appropriate norms and behaviours – including how they should interact with others of the same or opposite sex within households, communities and work places. When individuals or groups do not "fit" established gender norms they often face stigma, discriminatory practices or social exclusion – all of which adversely affect health. It is important to be sensitive to different identities that do not necessarily fit into binary male or female sex categories.
Gender norms, roles and relations influence people's susceptibility to different health conditions and diseases and affect their enjoyment of good mental, physical health and wellbeing. They also have a bearing on people's access to and uptake of health services and on the health outcomes they experience throughout the life-course.
There are often misconceptions about terms related to gender. Learn more by reading the glossary of terms related to gender, equity and human rights.
Similarities and difference of gender
There is a popular notion that men and women are very different in their cognitive abilities. The evidence for this may be weaker than you expect. A recent review states:
According to meta-analyses, however, among both children and adults, females perform equally to males on mathematics assessments. The gender difference in verbal skills is small and varies depending on the type of skill assessed (e.g., vocabulary, essay writing). The gender difference in 3D mental rotation shows a moderate advantage for males.
So from three celebrated examples of differences in ability only two actually show a moderate gender difference. Other abilities show no or negligible gender differences, Hyde concludes. Gender differences in ability may be overinflated in the popular imagination.
Worth noting is that the name of the game here isn't to find gender differences in behaviour. That's too easy. Women wear more make-up for example, men are more likely to wear trousers. The game is to find a measure which reflects some more fundamental aspect of mental capacity. Hence the focus on vocabulary size, mental rotation ability, maths ability and the like. These may be less subject to the vagaries of exactly what is expected of each gender, but that's a shaky assumption. Indeed, it would be weird if different roles and expectations for men vs women didn't produce different motivations and opportunities for practice of cognitive abilities such as these.
The real challenge is to find immutable gender differences, or to track differences in how abilities develop under different conditions. Without this evidence, we're not going to be sure which gender differences are immutable, and which are contingent on the specific psychological history of particular men and particular women living in our particular societies.
One way of addressing this challenge is to look at how gender differences change across different societies, or across time as society changes. A 2014 study, 'The changing face of cognitive gender differences in Europe' did just that, showing that less gender-restricted educational opportunities tended to decrease some gender differences but not others. In other words, increasing equality in educational attainment magnified some differences between the sexes.
Further similarities and difference:
Similarities
They are both human beings
They can both think
They both need to eat to stay alive and healthy
Differences
Men have stronger muscles than women
Most men have deeper voice
Men grow beards and moustach while women dont
Meaning of Gender Role
A gender role is a set of societal norms dictating the types of behaviors which are generally considered acceptable, appropriate, or desirable for people based on their actual or perceived sex or sexuality. Gender roles are usually centered on conceptions of femininity and masculinity, although there are exceptions and variations. The specifics regarding these gendered expectations may vary substantially among cultures, while other characteristics may be common throughout a range of cultures. There is ongoing debate as to what extent gender roles and their variations are biologically determined, and to what extent they are socially constructed.
Various groups, most notably the feminist movement, have led efforts to change aspects of prevailing gender roles that they believe are oppressive or inaccurate.
The term gender role was first coined by John Money in 1955, during the course of his study of intersex individuals, to describe the manners in which these individuals expressed their status as a male or female in a situation where no clear biological assignment existed.
ASSESSMENT
What is Gender?
List TWO Similarities and differences between male and female
Click here to ask a question and get an answer published in the forum. Read our disclaimer.
Get paid for every topic you create in: Shoutam.com Forum!